Monstock allows you to attribute status to your products, lots and locations. These status can be locked or not, allowign you to correctly manage your inventory depending your needs.
In order to use the status, you need to beforehand activate the settings on your adminstration menu.
Open the administration pane by clicking on he following button :

Next, click on "General preferences" :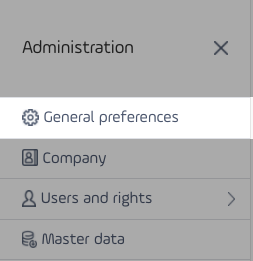 Scroll dow the page to display the status settings :

You have the possibility to actiovate status for your products, inventory or activate the contacts/projects management regardless of other settings.
Once your settings activated, save your changes at the bottom of the page :

Now that your settings are activated, you can create your status.